The Best and Reliable
Tax Registration Consultancy Dubai
Tax Registration Consultancy in Dubai
Offering better solutions to our clients in order to help their businesses grow and reach new heights, as well as assisting start-ups to put their businesses on course, are our primary objectives.
We offer complete accounting and tax solutions. Our tax registration services in Dubai believe there is a better way to do taxation. Our firm is dedicated to simplifying taxation for everyone through knowledge, education, and community engagement. We have a client-centric approach, reliability, and promptness that make us stand out as unique, most reliable and authentic providers of accounting and tax services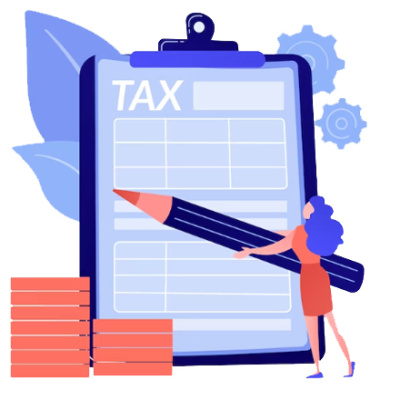 Tax consultancy in Dubai with a philosophy that each client is a unique business entity that should not only be provided with professional services but also innovative management solutions. You will receive customized, practical and comprehensive solutions that are based on extensive industry experience. In addition to our focus on GCC countries, we have a healthy list of satisfied clients from different sectors including retail, FMCG, TMT, oil & gas, real estate, travel & tourism, and health care.
We are considered one of the top tax registration services in Dubai. Certified professional chartered accountants providing bookkeeping services and tax consultancy services in Dubai, UAE. Nowadays tax registration services have become streamlined globally with the implementation of International Financial Reporting Standards, which makes the whole process more technical and complex. Our goal is to understand your business needs for tax registration services in Dubai, UAE as well as your long-term goals to tailor a package that meets all your needs.
As our primary objective, we strive to provide our clients with better solutions to help them grow leaps and bounds and reach new heights, as well as guide start-ups to set their businesses on the right path. As consultants, we believe that consulting encompasses more than simply providing advice, which has earned us some of the largest players in the market as clients. The tax registration company in Dubai we work with has worked with some of the leading regional organizations and we are proud to say that every time we have delighted our clients with our services.
The most reputable tax advisory firm in Dubai has a team of finest auditors and business consultants that maintains reliable & up-to-date data of financial statements that help you to comply with laws. We are FTA Certified Accounting Firm and FTA Registered Tax Registration providing good quality of professional Tax Agents in Dubai, UAE.
We provide a wide range of services including VAT consultancy, tax registration, accounting and bookkeeping, internal auditing, accounting outsourcing, CFO services, business setup, business plans, due diligence, feasibility studies, and developing tax strategies that will help you reduce your tax liability and improve your revenue.
We are one of the most trusted and reputable tax registration agencies in Dubai and across the UAE. Catering to a variety of sectors and industries, including hospitality, healthcare, retail, logistics, manufacturing, and distribution. A business's budgetary documentation is becoming essential nowadays, thanks to increased reliance on computerized programs and the critical observation of business transactions resulting from heightened regulatory laws and reporting guidelines.
A new set of tactics and technologies in the market have enabled tax registration services to become more sophisticated in terms of recording and storing data. Accounting firms, like us, are providing more facilities as preserving records becomes more important. We always strive to give our clients the best service possible.
Frequently Asked Questions (FAQ's)
Should I Pay VAT On Imported Goods?
VAT is due on products and services including imported goods and services. The recipient has to do tax registration in UAE under the reverse charge mechanism.
Is There Tax Grouping In UAE?
By registering as a VAT tax group in the UAE, businesses will be able to meet the criteria of the taxation law. Similar business categories and having business premises in the country are examples of such requirements. A tax group would be advantageous for certain businesses because it simplifies the VAT accounting process in the UAE.Is VAT Applicable for Customs Duty Exempt Goods?
Not necessarily. Customs duty and tax consultancy Dubai are independent levies. They are separate, which means customs exempt goods may be subject to VAT registration in UAE.
Which Is The Best Tax Registration Consultancy In Dubai?
IBM Global features among the top firms providing tax registration services of the highest quality.
Why Should You Choose IBM Global For Tax Registration Services?
We are professionals with deep knowledge of the tax domain. We use the latest software and tools so that recording and storing data is efficient. Finally, our prices are competitive.
Is IBM Global A Certified Accounting & Tax Firm?
Yes, we are an FTA Certified Accounting Firm and an FTA Registered Tax Registration Agent in Dubai.